Master of Art: Romeo 'Romi' Mananquil
By Thessa Sandoval, Philippine Canadian Inquirer on October 2, 2014
To his colleagues and friends in the industry, he is known as the "Maestro" (master). Having spent most of his life painting, his mastery of the art is, indeed, unquestionable.
Romeo Mananquil, also known as Romi, discovered his passion for the arts early in life. In fact, he learned how to draw before he learned how to write. The discovery of a world-class talent came when he found his father's old painting of the Caloocan town hall and some old copies of "Liwayway" magazine—one of the oldest magazines published in the Philippines—with Fernando Amorsolo's artwork on the cover in his aunt's old "baul" (chest).
When he opened the old chest, it seemed like a whole new world had opened for him as well. He was fascinated by what he saw. Using the little money he had, he immediately bought paper and excitedly copied the paintings and the comic series in the magazine using a pencil. "Right there, I made up my mind that I would be an artist," he said.
From then on, he never stopped creating art.
Painting a colorful beginning
He was just 10 years old when he got his first art commission for a school project. "I was ecstatic. It was a big job… a colored map of the Philippines in paper mache on a whole plywood. I labored on it for days, but I felt so fulfilled when I finished it and my customer was very happy with it. I got paid seven pesos (less than a quarter in CAD), which to me was a big, big amount," said Romi.
He was, then, just a boy who was happy with seven pesos; a boy who did not know yet that one Mananquil painting would cost much more in the future.
Publicity came right away for Romi. His work was first published in The Torres Torch, the official publication of Torres High School in Tondo, Manila. Eventually, he became the paper's chief artist. But young Romi did not just excel in the arts and extra-curricular activities. He also excelled in academics.
Because he was the best student in his class and graduated with honors, he didn't have a hard time getting admitted to the prestigious University of the Philippines (U.P.). He was one of the first to major in Illustration in U.P.'s School of Design, alongside other notable artists like Daniel H. Dizon, Ruben Nicdao, and National Artist Benedicto "Bencab" Cabrera.
During his university studies, he also met the person who would become his mentor—Professor Jose Joya, one of his teachers. As Joya's protégé, Romi assisted in many of his teacher's artistic projects, like painting the backdrops for the ballet presentation "Giselle" at the Rizal Theatre and a mural at the new mansion of big-time punter Felipe Ysmael. "I was his first choice (among his students that included Bencab) as student assistant for bigger commissions. Once, he gave me a job he couldn't do and asked Bencab to be my assistant."
To Romi, Jose Joya was the most encouraging teacher. The professor knew that his student's talent had no limit and that he would go far. Despite that, he taught Romi one important thing: "[He told me], 'do not overwork, you should know when to stop.'"
Becoming the 'master of art'
Because his talent was ready for the world to see, "Liwayway," the same magazine that first introduced him to the world of the arts many years ago, hired him to do illustrations before he even finished school. After graduating with Latin honors from U.P., he continued working for the magazine and became one of the country's most illustrious artists. Romi also became a respected teacher at U.P.'s Fine Arts College.
In the 80's, Filipinos across the country would see his work. Bangko Sentral ng Pilipinas (Central Bank of the Philippines) hired him to design the 1985 flora and fauna series of banknotes and coins together with two other artists. He was the artist behind the first two-peso Bonifacio decagonal coin, the Balagtas 10-centavo coin, the one-peso tamaraw coin and the Tandang Sora five-centavo coin. He also designed the now discontinued green five-peso Aguinaldo bank note, the tri-hero 1000-peso bank note, and a 500 pesos Marcos bill that never circulated.
He also became famous for using the dry brush technique when illustrating for magazines back in the day. Many artists who were his seniors and were more famous than him even copied his style.
Starting with a blank canvas again
At the height of the Marcos movement and also his career, Romi decided to leave the Philippines with his family. "I thought I have to do something for my family in that kind of situation," he said. He had the opportunity to meet the Canadian Consul General at the time, and he and the Consul General immediately became good friends. He used his newfound friendship to be able to bring his family to Canada. "I was able to get immigrant visas for all of us in 3 months."
Starting a new life in a foreign land is never easy for many, and Romi couldn't agree more. "For the first time, I experienced job hunting, applying, and getting rejected for the strange reason of being 'overqualified' and not having 'Canadian experience.' I finally got hired as an artist in a flag factory when I cut down my education to 'high school graduate,'" says the Maestro.
Having taught art courses back home, Romi eventually got hired as an art instructor at the Hilltop Community School for Continuing Education in Etobicoke, Ontario, and also conducted workshops in oil painting for Etobicoke School of the Arts. In 1989, he also got a job as a graphic artist at the Yellow Pages Group.
Looking into new horizons
It was his feature in Filipino newspapers as the artist behind the flora and fauna Philippine banknote collection that led him to meet and be recognized by other artists in Canada. "That signaled the need for binding together," Romi said. Together with his new friends, he joined Pilipino Artists in North America (PANA).
In 1988, he reorganized PANA and renamed it as the Philippine Artists Group (PAG), which later became the Philippine Artists Group of Canada. He became the organization's first president and served for 14 long years.
Art was the only thing that connected Romi to his life back home and he wanted to share that connection with other Filipinos in Canada. "The PAG was organized to unite Filipino artists practicing their art [and] to primarily promote and showcase Philippine visual arts in this part of the world," he explained.
No matter how prestigious it may sound to be a president of an organization, Romi admitted that becoming the leader of a struggling group was a daunting task. "As president of a new struggling group composed of ultra sensitive members, I had to swallow my pride many times just to keep the group alive. To top it all, nobody wanted the job, and so for its first 14 years I was at the front line, doing most of what was to be done and getting most of the heat," he said.
Despite all the challenges, Romi remained strong for the group and said he would not have traded the experience for anything else. "Now I feel fulfilled seeing the PAG as a robust and respected group in the community, especially now that more and more Filipinos are starting to patronize Philippine art through the PAG," he added.
Romi's hard work in promoting Filipino visual arts in Canada was recognized when he received a Queen Elizabeth Diamond Jubilee Medal, which is a commemorative medal awarded to Canadians who made significant contributions to their community. In addition, the PAG now has more than 20 members, including young Filipino artists, and holds shows and exhibitions all throughout the year.
Appreciating the greatest art of all
After years of service to the PAG, he decided to hand over the reins to another person. "I felt that somebody had to take over, so the PAG could shift gears and freshen up," he said. However, he still wanted to continue looking after the group. Today, he still serves as an advisor to the organization.
Romi also decided to leave his career at the Yellow Pages Group to retire. But even though he is retired, he still has lots to do. "I just retired from my regular job. There is no retirement [when it comes to] being an artist, a househusband, a father, a grandfather and a family man."
He spends most of his time now conducting workshops in his basement studio, supporting the new PAG officers, and enjoying every moment in life with his family. He is happy that he now gets to spend more time with his loving wife Necie, who has been at his side for almost four decades. Romi said that even though he looks up to artists like Juan Luna, Fernando Amorsolo, Botong Franciso, John Singer Sargent, Nicolai Fechin, Carolyn Anderson, Robert Coombs and Richard Schmid for inspiration, his greatest influence and inspiration is his wife.
"When I was pursuing her, I used to include her in my illustrations for Liwayway, whenever I can," he fondly recalled. "Her likeness is always there when I paint Philippine women… There is something of her in practically all of my paintings," he added.
When asked about his plans for the future, Romi Mananquil, the master of art, said he would place everything at the hands of the true Master. "Whatever is next, God will guide me." Following his mentor's advice to know when to stop, the master of art is putting down his brush to finally appreciate the greatest art he created—his life and his wonderful journey in it.
---
• 1942 Born December 1 in Caloocan, Rizal, eldest of five children of Alfonso Paras Mananquil, Sr. of Pampanga and Gloria Malicdem Castillo of Pangasinan.
• As a child, discovered and was fascinated by a watercolour painting by his father of the Caloocan town hall and old issues of Liwayway magazines with Amorsolo covers and Carlos Francisco comics illustrations in an old 'baul' at his aunt's house. Immediately he bought some bond papers and copied the paintings and the comics in pencil. From then on he was drawing before learning to write.
• Around age 10, got his first art commission for a school project and got paid 7 pesos for a whole plywood rendering of the map of the Philippines in papier mache and watercolor.
• 1949-55 Was school, class and visual aid artist for teachers at the Caloocan Elementary School
• 1958-59 Chief Artist for "The Torres Torch", official organ of Torres High School, Gagalangin, Tondo, Manila, where he got his first publicity press release. Took Graphic Arts as a vocational subject and was acknowledged as the best in this class. Graduated with honors.
• 1959 Took entrance test at the University of the Philippines, only to find out later that he qualified as Entrance Scholar at the School of Fine Arts.
• Was either University or College Scholar for the whole 4-year course.
• Was his mentor, Prof. Jose Joya's first choice as student assistant for various and bigger artistic projects. Assisted Joya, together with other students, in doing the backdrops for the ballet presentation of 'Giselle' at the Rizal Theatre. Was the lone student assistant for Joya again on a commissioned mural for Felipe Ysmael's (of Ysmael Steel) new mansion. Was subsequently asked to do a garden mural for him again when Joya could not commit. Asked his classmate, Benedicto Cabrera, later to be known as the National Artist Bencab, to join him for this project. Got a commission to do a nativity scene in Cavite. Asked other top classmates including Bencab again to assist him.
• One of the first 4 students to major in Illustration. The other 3 were Benedicto Cabrera, Daniel H. Dizon and Ruben Arthur Nicdao.
• While still a student, started illustrating for Liwayway (oldest and biggest circulated vernacular magazine in the country where early idols Fernando Amorsolo and Carlos V. Francisco and later, Cesar Legaspi, Ang Kiu Kok, Alfredo Roces, Arthur Nicdao & Bencab did art and illustrations for a time).
• Still a student, won as a finalist for his cartoon entry at the "Operation Quick Count" contest conducted by The Manila Times to drum-up interest and awareness for a free and honest elections.
• 1963 – Graduated as one of the two cum laudes (the other was Daniel Dizon) with a Bachelor of Fine Arts degree. Both were elected members of the Phi Kappa Phi International Honor Society.
• 1963 – Was offered a job as Graphic Artist at Ace Advertising in Makati right after graduation.
• Was hired as Staff Artist/Illustrator for Liwayway Publications, Incorporated three months later. Did illustrations for serialized novels particularly by Liwayway Arceo, the top lady vernacular writer/novelist and Gervasio Santiago, editor for Liwayway magazine at that time
• Used the dry brush technique which gradually became the new trend in illustration for the magazine, influencing most of the other artists who were more senior and better known.
• Rose to be among the company's top magazine illustrators. Was commissioned to do paintings that were used as covers for Liwayway's special issues, alongside with veteran artists Rodolfo Herrera and Amado dela Cruz.
• Did comics illustrations for Akda Publications of Helen Roces-Guerrero, daughter of Don Ramon Roces of LPI, subsequently winning 2nd Prize in Comics Illustration in a SPIC (Society of Phil. Illustrators and Cartoonists) sponsored nationwide contest, beating other more senior illustrators, some of whom were his own idols.
• 1967 Started as Instructor for Illustration, Advertising Design, Cartooning and Watercolor Painting at the U. E. School of Music & Arts in Sta. Mesa.
• 1969 Married Aniceta Maron Aquino of Binmaley, Pangasinan. The had five children: Roani, Jordan, Anicee, Herson and Maila.
• 1972-77 was hired as Designer/Visualizer for J.Walter Thompson Advertising Co.
• Continued illustrating for Liwayway as a free lancer and alongside with "The Modern Teacher" magazine and the Weekly Graphics. Later, he was invited to do illustrations for the 10-volume "Filipino Heritage" books by Alfredo Roces, and by the award-winning Graphic Designer Edwina K. Arroyo for "The Seven Ages of Romulo", a biographical book written by National Artist Nick Joaquin and "Copper One", a book by another award winner, writer Erwin Castillo.
• 1977-1985 Hired as Instructor and rose to Asst. Professor, to Chairman, Dept. of Visual Communications, U. P. College of Fine Arts teaching Illustration, Cartooning, Advertising Arts, Drawing & Painting. Later he also held Illustration and Cartooning classes at the College of the Holy Spirit, Dept. of Fine Arts in Manila.
• 1973 Seriously went back to Painting. Sold his first oil for P70. Has since participated in more than a hundred group exhibitions in the Phils., Australia, U.S. and Canada
• 1974 "Oleo", a first 2-man show with Raul Dayao at Quad Gallery, Makati
• 1976 "R.C. Mananquil", his 1st one-man show at Rear Room Gallery, Ermita
• 1977 Commissioned as one of the artists for the "Ferdinand Marcos, Biography in Painting" traveling exhibition sponsored by Gallery Blue. Painted "Wedding of the Year" (Marcoses' wedding) and "Visit To Peking" (Marcos' meeting with Chairman Mao Tse Tung in Red China).
• 1978 Awarded a commission to paint a huge mural, "Southeast Asian Agriculture", for the SEARCA Blg., U. P. Los Banos, with the assistance of Angel Cacnio and facilitated by top art writer / critic, Prof. Paul B. Zafaralla.
• 1881 "Lahing Pilipino", a 2-man show with Angel Cacnio, Galerie Bleue, Makati
• 1983 His pencil portrait sketch of Don Andres Soriano on the cover of a his company's annual report led to his being hired by the Bangko Sentral ng Pilipinas to design the 1985 Flora and Fauna series of bank notes and coins. He later asked fellow artists Angel Cacnio and Rafael Asuncion to join him. Was credited in designing the 1st 2-peso Bonifacio decagonal coin, the Balagtas 10 centavo coin, the tamaraw for the 1-peso and the heroine, Tandang Sora for the 5 centavo coin. For the bank notes, also designed the now discontinued green 5-peso Aguinaldo bank note, the original, printed but never circulated Marcos 500-peso bill (later replaced by the Ninoy 500 pesos, designed by Asuncion as he already left for Canada), and the tri-hero blue 1000-peso bank note still in circulation..
• 1984 "A Boy Named Jesus", group show organized by the Kawilihan Gallery. Painted "The Marriage of Mary & Joseph", The Adoration of the Shepherds", and "Jesus, Mary and the Lost Lamb".
• 1984 Named Artist-in-Residence for Painting, U.P. College of Fine Arts.
• 1985 Left for Canada with his family joining him six months after. Started new life in Canada doing portraits. Got published right away in 2 local Filipino papers, 'Atin Ito' and 'Filipiniana' in Toronto mainly as a newly-arrived artist and designer of 1985 series of Philippine bank notes and coins.
• 1986-87 Was hired as a part time Art Instructor for Watercolour & Oil Painting, Hilltop Community School for Continuing Education, Etobicoke, Ontario. Was later hired to conduct Art Workshops in Oil Painting for the Etobicoke School of the Arts.
• 1986 Was invited to participate in an all Filipino art exhibition as a special feature of the Philippine Independence Day Gala Night celebration. Sold his first 2 paintings in Canada to an appreciative Filipino couple for $1500 each. Joined the existing group at that time, Pilipino Artists in North America (PANA).
• 1988 Reorganized the group and renamed it the Philippine Artists Group (PAG) with all the Filipino artists from the exhibition. Became its first president and held the position for the next 14 years. The group's main objective is to showcase and propagate Philippine visual arts in this part of the world through art exhibitions, the biggest of which became a regular feature of the annual celebration of the declaration of Philippine independence. Later on, the Philippine Consulate General in Toronto became its annual presenting sponsor.
• Credited for designing the Philippine Artists Group of Canada's now familiar 3-pallete logo (arranged to suggest the PAG acronym) using the Philippine flag's red, white and blue colours.
• 1989 Was hired as Graphic Artist for the yellow pages company, Tele-direct Publications later called Bell Actimedia and eventually, The Yellow Pages Group.
• The PAG under his leadership gradually made the Filipino community as well as mainstream Canada become aware on the merits of Philippine visual arts. Later, buyers and collectors begun to appear and he became one of the most collected Filipino artists in Canada today. The advent of the internet widened his horizon with buyers and inquiries from the U. S., the U.K., Australia and the Philippines.
• 1996 As a member of the Order of the Knights of Rizal in Canada, did a controversial portrait of Dr. Jose Rizal, perhaps the only known visual presentation of the hero in barong tagalog. The painting, which now hangs at the front hall of the Philippine Consulate General in Toronto, was jointly donated by the Knighthood and the Philippine Artists Group on the centenary of the hero's martyrdom. For this gesture, he was awarded a Special Plaque of Appreciation by the OKR and was subsequently elevated to Knight Commander of Rizal or KCR.
• 1998 His Philippine Independence declaration scene used originally for the 5-pesos was adapted for the 100,000-peso centennial commemorative note, measuring 8 1/2 " x 14 ", accredited by the Guinness Book of Records as the world 's biggest legal tender note.
• 2003 Ended his term as PAG president to make way for stewardships from other members. Was officially given the title: President Emeritus by the group for his 14 years of continuous dedicated service as PAG founder and leader.
• 2003 Was accepted member of the prestigious Portrait Society of America alongside with other Filipino portraitists like the recent top prize winner Romulo Galicano, Vancouver's Edgar Lantin, and Chicago's Jun Buenosilva.
• 2004 Retired from regular job at the Yellow Pages Group. Lead a team of PAG members joined by guests artists from the US., France and the Philippines in organizing "Convergence Internationale", the 1st PAG art exhibition in the Philippines, at Art Space, Glorietta IV, Makati City, Metro Manila.
• 2005 Now as a full time artist, decided to go back to teaching art by conducting workshops in Oil Painting in his basement studio.
• 2006 After more than forty years, had a first 3-man show with former U.P. classmates, Benedicto Cabrera and Dan Dizon, entitled "Bencab, Daniel H. Dizon, R.C.MananQuil, Class '63" at the Crucible Gallery, Mega Mall, Mandaluyong City, Metro Manila. A month after, Bencab was proclaimed National Artist for Visual Arts.
• In more than 40 years as an artist, he became a member or affiliated with the ff: Art Association of the Philippines (AAP), Society of Philippine Illustrators & Cartoonists (SPIC), Association of National Illustrators (ANI), Figura (Figure Artists), grUPo (Artists from U.P.), Lakan Sining ng Bulakan, the Saturday Group and the Philippine Historical Association. Is also now a member of the University of the Philippines Alumni Association in Toronto and the Torres High School Alumni Association (International). Credited as the designer of the THSAAI and the UPAA Toronto 'Kapihan' logos.
• 2007 Was invited to be a gallery artist of the Bridges, a gallery of Fine Art in St. Charles, Illinois initially jointly owned by Rowena Salas, his U.S. based collector and artist Richard Sperry. He was the only Filipino artist and the only one from Canada to join the predominantly American artists of the newly established gallery.
• 2008 Held his first homecoming solo art exhibition called "Uniquely Pinoy" at the Corredor gallery, UP College of Fine Arts, Diliman, Quezon City, Philippines from April 15 to 30. The exhibition, jointly sponsored by the UP College of Fine Arts and the UP Alumni Association –Toronto, Canada was part of the yearlong Centennial celebrations of his alma mater, the University of the Philippines. The formal opening was attended by National Artists Napoleon Abueva, Virgilio Almario & former classmate, Bencab, Canadian Ambassador Robert Desjardin, Former Bangko Sentral Governor Jaime Laya, UP Diliman Chancellor Sergio Cao, UPCFA Dean Tina Colayco, former mentor, Professor Emeritus Virginia Flor Agbayani, UPCFA faculties & students, relatives, artists and friends. UP President Emerlinda Roman failed to attend being at UP Davao commencement. She visited the gallery the following day.
• 2008 Included in the "100 Nudes 100 Years" UP Centennial commemorative coffee table book with 2 of his works among 100 artworks by 79 UP artists including all 9 National Artists alumni.
• 2008 Helped organized "Sketching from Life", a first activity of this kind for the UPAA Toronto and the Filipino community wherein a live nude model was sketched by invited members of the Philippine Artist Group in the presence of non-artists, mostly members and guests of the regular UPAA 'Kapihan'.
• 2008 Oct. 25, Was the recipient of the UP Centennial Distinguished Graduate Award for Exemplary Achievement in the field Visual Arts, at the UPAA Toronto Centennial Ball, Marriott Hotel Toronto. Also held a mini art exhibition with fellow alumnus artist Omel Masalunga called "Uniquely Pinoy 2" as a special feature of the event. Designed the wine label for the UPAA Toronto Centennial commemorative wine officially made available for the first time during that event.
• 2009 Was invited by the Oxford University Press in England to illustrate the Philippine entry "Progress", a short story by Philippine National Artist, F. Sionil Jose for the book "Playing with Fire".
• 2010 With his painting "Innocence", the Philippines was chosen as one of the 12 to be represented with paintings from among the 18 customer countries worldwide for the 2011 CFM International Calendar. CFM International, a joint company between Snecma of France and General Electric Company, USA., is the world's largest producer of jet engines. The CFM calendar is distributed to thousands of selected VIPs from around the world.
• 2011 In a mammoth joint project by the University of the Philippines, the UPAA and the Araneta Centre, was among the 30 UP artists (including National Artist Bencab) invited to paint the 30 mural paintings on Philippine history in celebration of the UPAA centenial and the Araneta Coliseum's Golden Jubilee. Was the only artist based outside the Philippines (in Canada) and the only one supported by an outside organzation (UPAA Toronto). His 6' X 12' was titled "Himagsik" featuring the Filipinos' long struggle, both peaceful and armed, for Philippine independence from the regional uprisings to the Katipunan 1st Cry of Pugadlawin.
• 2012 Was among the recipients in Canada of the Queen Elizabeth II Diamond Jubilee Medal to commemorate the 60th Anniversary of the Queen of England's Ascension to the Throne.
• 2013 April 5 Was one (for Visual Arts) of the 5 recipients of the ASNA Award trophy and certificate, notably the highest and most prestigious award to outstanding Pangasinenses given personally by Governor Amado Espino at the highlight presentation ceremonies of the 433rd Founding Anniversary of Pangasinan at the newly renovated and very classy Sison Auditorium in Lingayen. His name is now permanently engraved among others at the ASNA Park behind the auditorium.
Gathering Seashells
Riches the sea keeps, partly gathered by the people for cash and an occasion for filial bonding, shown in Gathering Seashells. The inverted triangular arrangement of the figures establishes gradual distance and calculated tension. Typical in seaside localities, this artwork raises a pressing question that demands an immediate answer: What must the State do to actualize a better, not bitter, life for all?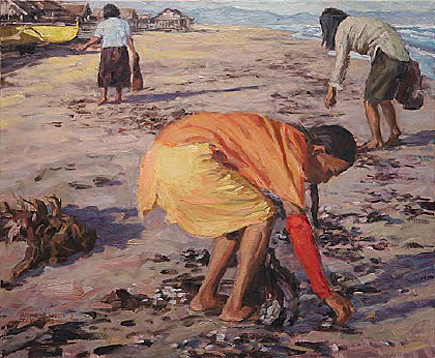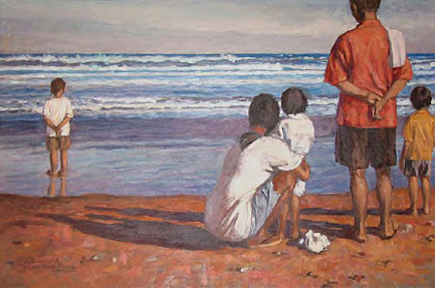 Wave Watch
The sea as a refuge of a tired body serves as an invitation open to all, as in Nay…Hanggang Saan ang Dagat? No modern, high-tech invention is shown calculated to pollute the water and air. All five subjects, no doubt a family, obviously come from the low stratum of society, but are nonetheless endowed with dignity and contentment enjoyed in a life well-lived despite shortfalls.
The boy on the left side is detached from his family and communes with the breaking waves, as in fact with the open sea with unreachable horizon. He must be thinking, like a Western philosopher did, that if he were to fill up a hole on the seashore with saline water, will the water break into waves, complete with a hissing sound and a roar? In MananQuil's words, "I want the scene to be more deep. Perhaps deeper than the sea. The family is watching…what goes on in a child's mind as he looks at the vast blue sea. Maybe this child will try to answer his question himself when he grows up…either as an immigrant or an OFW." Reminiscent of the young Rizal observing the then placid and pristine water of Laguna de Bay.
Pag-iisa
The sea as leisure site (Pag-iisa) and as life source (Memories of Malabon) cannot be obliterated by today's parameters of the good life. Structural frameworks are all that stand to tell the story of Philippine life unique in the old country: making do with what obtains and preserving both sea and structures that refuse to relinquish a Filipino identity.
Bonding and love, Filipino version, are clearly delineated in Gigil (Irrepressible thrill) and Munting Ate (Little elder sister). The mother/grandmother in Gigil wraps the baby girl with her arms, like she, the girl, were a live trophy, as she truly is. The child, for her part, returns the compliments, for a reciprocal sharing of a common bloodline. The red dress of the mother/grandmother is darker than the child's red dress to emphasize the verdict of maturity. Fleeting is the child's facial expression. This asserts MananQuil's mastery of human expression, which remains as his identifying "signature" among portraitists in the Philippines, Canada and now US.